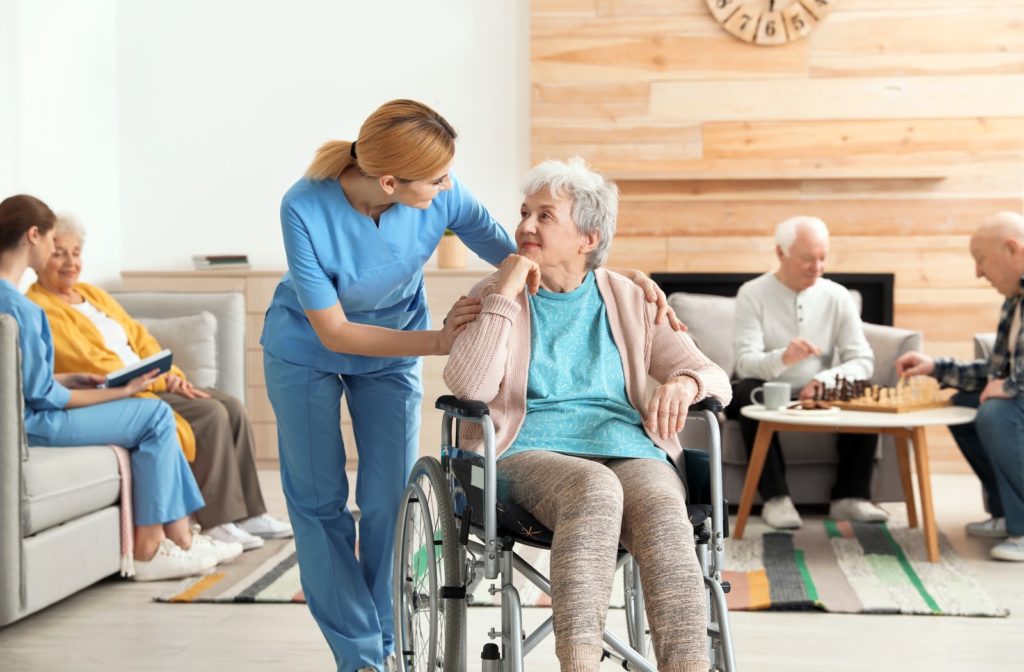 Transitioning from independent living to a supervised community can be difficult for seniors, but the levels of care provided offer advantages and security. When your loved ones begin to struggle with activities of daily living, you'll want to ensure they move into the appropriate care facility.
Several levels of care are available for seniors depending on their unique needs. Assisted Living and Nursing Homes both provide additional levels of care above Independent Living, but there are some noteworthy differences. We'll discuss the differences between Assisted Living and Nursing Homes to help you better understand which is best for your situation.
Medical Care
The primary difference between Assisted Living and Nursing Homes comes down to the medical services provided. Assisted Living is a full, private apartment home, home like/cozy environment that also provides high levels of care and safety features with more independence, while Nursing Homes are primarily medical facilities.
Assisted Living
As a resident in an Assisted Living community, you can enjoy your independence while having the professional care of the staff to encourage and assist your well-being. The team is at your service to help administer medications if you need them.
Most Assisted Living communities have 24-hour staff onsite and physicians who make house calls so you can stay in the comfort of your apartment to see the doctor. To promote activity and maintain your health, you'll have various wellness programs to take advantage of, like group exercise classes or walking clubs.
Nursing Homes
Nursing Homes care for seniors who require a high level of medical assistance—the primary reason for moving to a Nursing Home is for medical care. These facilities provide services like rehabilitation, physical and occupational therapy, and speech therapy. The medically trained staff administer medications and daily injections. For additional peace of mind, physicians are onsite to provide palliative care.
Nurses and aides are available around the clock, and 24-hour supervision ensures that seniors are safe and comfortable. Residents may move into a nursing home for short-term rehabilitation or on a long-term basis if ongoing care is needed.
Help with Activities of Daily Living
The level of assistance provided for activities of daily living differs for each resident. Before moving into a senior living community, the prospective resident may undergo a needs assessment to determine what kind of care is required. The evaluation will look at areas like how much help is needed for mobility, getting in and out of bed, and other activities of daily living.
Assisted Living
In Assisted Living, you'll enjoy a comfortable lifestyle where life's mundane tasks are taken care of so you can pursue your interests and socialize. This option is best for seniors who want to maintain some independence but require some assistance with mobility, personal hygiene, housekeeping, and preparing meals.
Assisted Living offers meal preparation, usually three meals per day, and weekly housekeeping. Laundry can be added for an additional cost. When you want to embark on an outing, you'll have transportation available to shuttle you to and from your favorite places.
Nursing Homes
The advantages of living in a Nursing Home are several for seniors who need complete assistance with activities of daily living. With round-the-clock care, residents receive help with personal care, getting to and from the bed, bathing, dressing, and housekeeping.
Residents will have three meals per day, and the staff can provide help with feeding if necessary. Daily housekeeping and laundry are included in Nursing Home services.
Often, residents in Nursing Homes use wheelchairs or have chronic injuries that limit mobility. Ramps, bars, and railings ensure that residents can move as freely as possible throughout the area.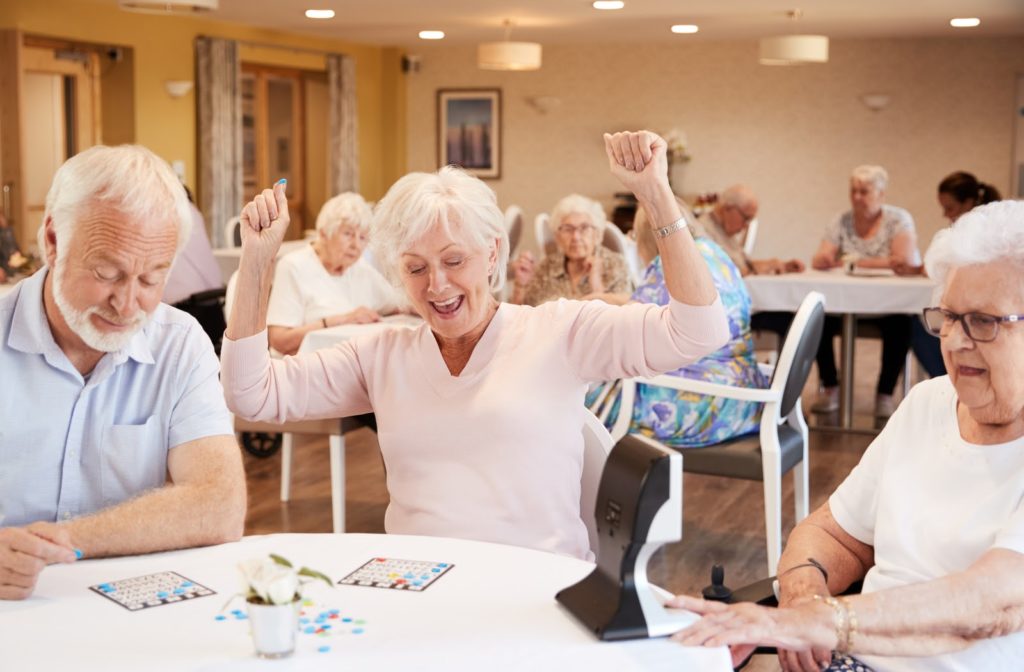 Community & Social Programs
Although the transition to senior living can be challenging, the silver lining is the community and social programs available that prevent the residents from becoming isolated and inactive as they might in their own homes. These programs are implemented to meet the social and recreational needs of residents to find joy and laugh with other seniors and staff.
Assisted Living
In Assisted Living, community activities fill the days. Educational and vocational services keep seniors' minds engaged, and residents can stay active with physical programs. There's no shortage of socializing in Assisted Living with spiritual, emotional, and environmental programs as well. Most facilities have common areas for residents to visit with friends and family and engage in fun events like trivia and seasonal crafting. Shuttles are often ready to take residents for outings to their favorite places.
Nursing Homes
While recreational programs may be more limited in Nursing Homes due to the level of care required, the social needs of residents are still met. Seniors can congregate in the common rooms to share meals or participate in social activities. Some Nursing Homes offer engaging courses like painting, singing, and cooking. Exercise programs are usually scheduled, but rather than group-centered, they are person-focused and led by a physical therapist.
Living Spaces
Depending on the level of care provided, living spaces will be private or semi-private and include easily accessible bathrooms, comfortable furniture, a comfortable bed, a television with cable, and internet access. In Assisted Living, the apartments have a kitchen or kitchenette with individual climate control.
Nursing Home layouts flow well to mitigate confusion and help with cognition. The buildings have increased safety features, including door alarms and tools like ramps and railings to assist mobility. Senior living spaces are designed with common areas, socializing rooms, and courtyards to increase the sense of community and connection to the environment.
How Much Will it Cost?
Perhaps the hardest pill to swallow is the cost of senior living. Between Assisted Living and Nursing Homes, the latter requires more investment due to the level of medical care provided. At the time of writing, Nursing Homes cost nearly twice as much as Assisted Living (though this will vary by state). Feel free to contact us to learn more about pricing options and levels of care for your loved one.
Final Thoughts
The transition to Assisted Living or a Nursing Home can be tough, but remember to tackle it with empathy and compassion. Discuss your options with family, friends, and doctors to choose the best senior living lifestyle for your situation. Knowing the options and differences will help you determine how to achieve maximum comfort, safety, care, and community for your loved one.